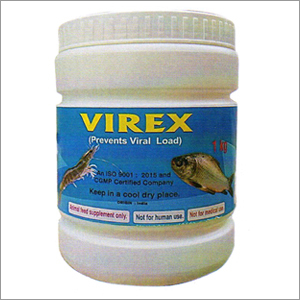 Virex (Prevents Viral Load)
Product Description
Composition :
Potassium Mono per sulphate - 50%
Sodium Chloride - 1.5%
Potassium Sulphate - 45%
Sodium Di chloro Iso Cyanurate - 5%

Benefits :
Strats action within minutes after application and kills micro organisms with in 12-24 hours.
Readily soluble in water and no leaching effect.
Most suitable alternative to kill all kinds of viruses in aqua culture ponds.
Controls all external infections of prawn / shrimp including gills tail and antennae.
No Stress, no irritation, non-corrosive and safe to use.

Dosage:
1 mtr. Water Depth
1.5 kg to 2.5 kg / hectare once in a month.
Contact Us
Door No : MIG 153, H.B.Colony, Nallapadu Road, Guntur, Andhra Pradesh, 522006, India
Phone :09848245626